The 'Black Panther: Wakanda forever' Lexus RX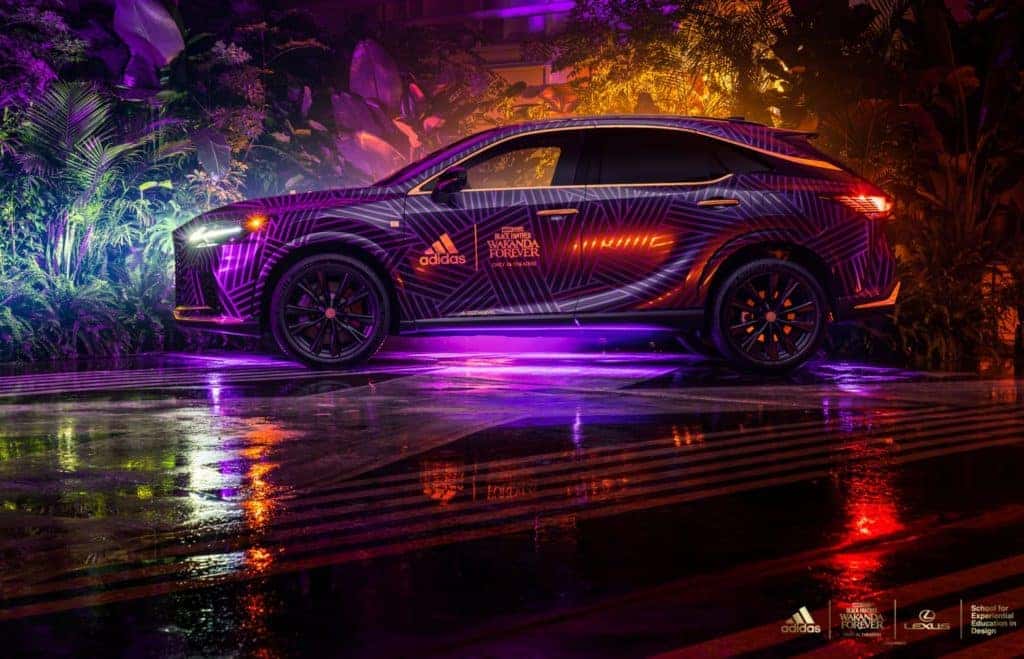 Lexus, adidas, adidas S.E.E.D, Calty Design Research and 3D printing company Carbon have joined forces to transform the all-new Lexus RX 500h F SPORT into an eye-catching crossover inspired by Marvel Studios' "Black Panther: Wakanda Forever." To celebrate their recent launch of adidas' "Wakanda Forever Collection," the adidas team sought to bring their vision into the automotive space. This performance sportswear embodies what it means to be Wakandan and explores the realm of athletes in the Wakanda world. The custom vehicle wrap embodies the collection's identity. 
The exterior of the RX features the Wakandan-inspired print with purple colorway and a diamond pattern inlay across the hood. The gold details, a tie to the new Black Panther suit, found throughout the exterior help accent the RX. The wheels and Lexus badging have been reimagined using the fictional Wakandan alphabet, with the word "Vibe-Branium" spelled out near the rear badging as part of the vehicle's unique name: the Lexus RX 500h Vibe-Branium AWD DIRECT4.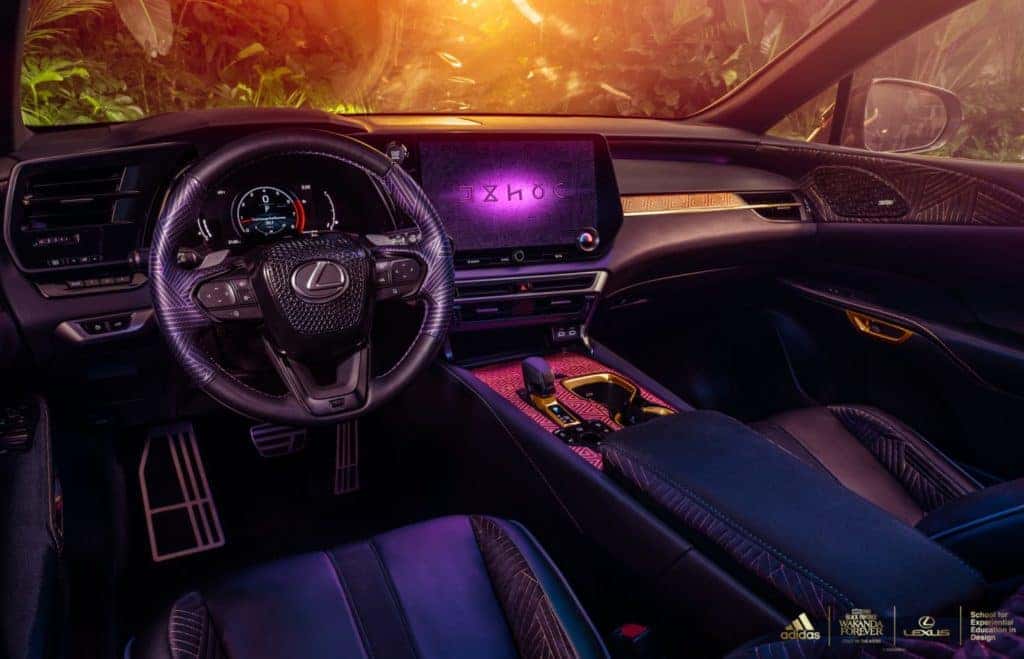 The interior of the RX is a full immersion into the Wakandan universe. Future-focus designs, textures and materials cover the cabin of the vehicle, with adidas's custom tribal gold print and purple accents. The F SPORT door plate has been translated into the Wakandan alphabet, along with "Wakanda Forever" spelled on the steering wheel. Key tactile areas, such as the steering wheel pad and headrests, and covered in the Carbon 3D printed energy-returning athletic shoe midsole material used in the adidas 4D-FWD. Surfaces around the shifter are decorated in laser-cut wood and gold trim to complete the immersion. 
"Lexus, adidas and Wakanda Forever may seem like they come from totally different worlds but the thread that draws everything together is the pursuit and leadership in unique storytelling and innovative technology," stated Alex Shen, chief designer at Calty Design Research.  "Because of this common thread, the S.E.E.D. designers have such a unique and exciting task ahead of them to create something really artful and cool. It's a real pleasure and honor for us to witness all the creativity, enthusiasm and collaborative thinking and execution from the S.E.E.D. designers."