The RZ 450e
THE FIRST-EVER
ALL-ELECTRIC RZ 450e
With its standard DIRECT4 all-wheel drive system and our most advanced connectivity, this all-electric crossover elevates your drive like never before. More than an EV, this is the next chapter of electrified mobility.
As the first globally available dedicated battery electric vehicle from Lexus, the new RZ marks the next step for the brand into a fully electrified future. With a manufacturer-projected range of up to 220 miles, the RZ 450e utilizes a dedicated battery electric platform to significantly evolve vehicle performance for an exhilarating drive. This Lexus-first platform offers high levels of stability and ride comfort by mounting the battery under the vehicle floor for a low center of gravity and moment of inertia.
The best part? You can test drive one at Lexus of Northborough.
Click here to schedule your test drive today.

Already fell in love? Pre-order your very own below.
 
The RZ 450e is expected to deliver in-homes Spring, 2023.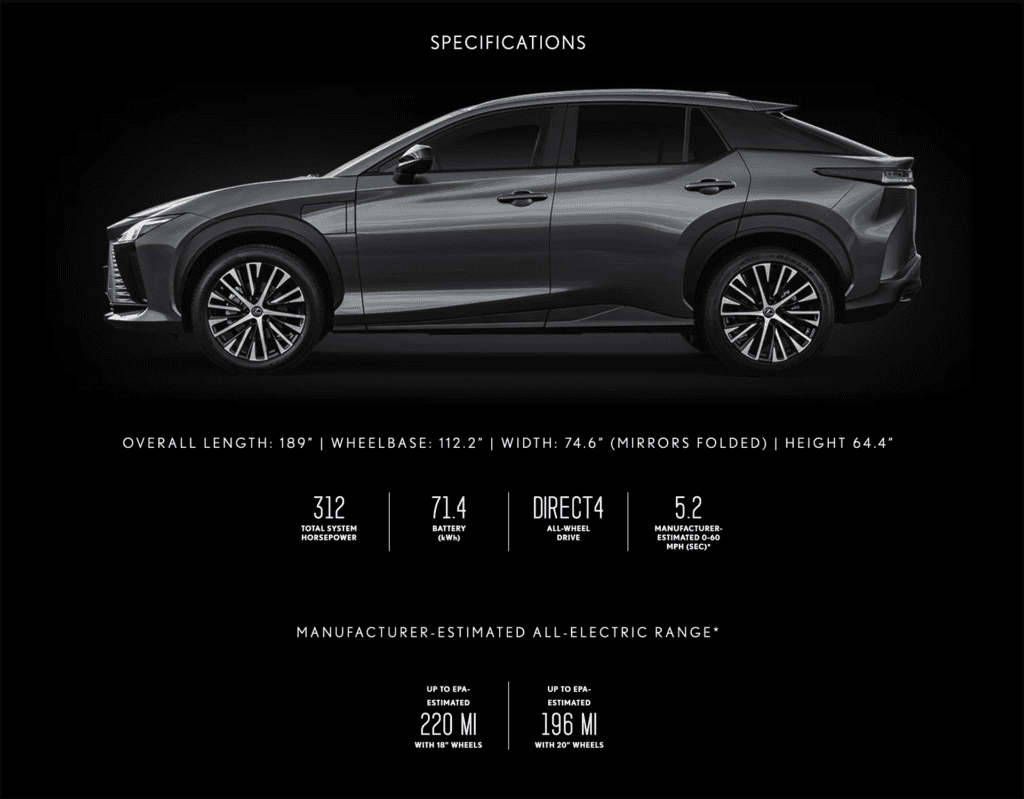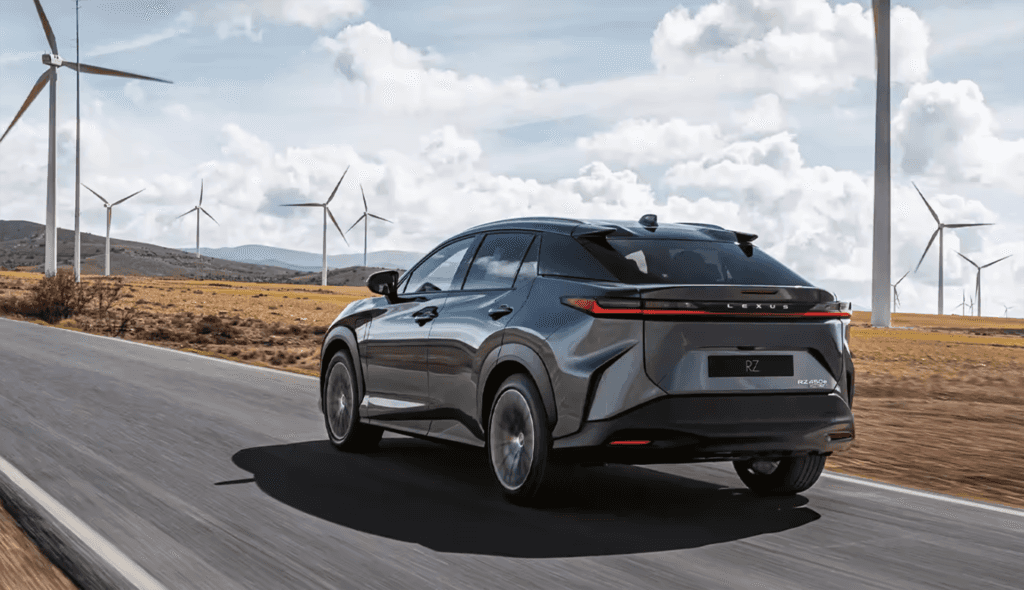 DESIGN
The front cockpit's design advances the human-centered philosophy of Lexus. Inspired by the tazuna reins favored by traditional Japanese equestrians, the steering wheel features switches that are precisely synced with the available Head-Up Display, creating a space where drivers can control various functions such as navigation, audio, and drive mode select while concentrating on driving. The RZ 450e includes innovations like available Ultrasuede-trimmed seats—an interior trim made using biomaterials. Its world's first Shadow Illumination projects light on to the door trim, adding new flair to the interior space. A panoramic roof with on/off dimming feature visually opens the cabin, while passenger comfort is improved by a highly efficient heating system featuring a Lexus-first radiant heater.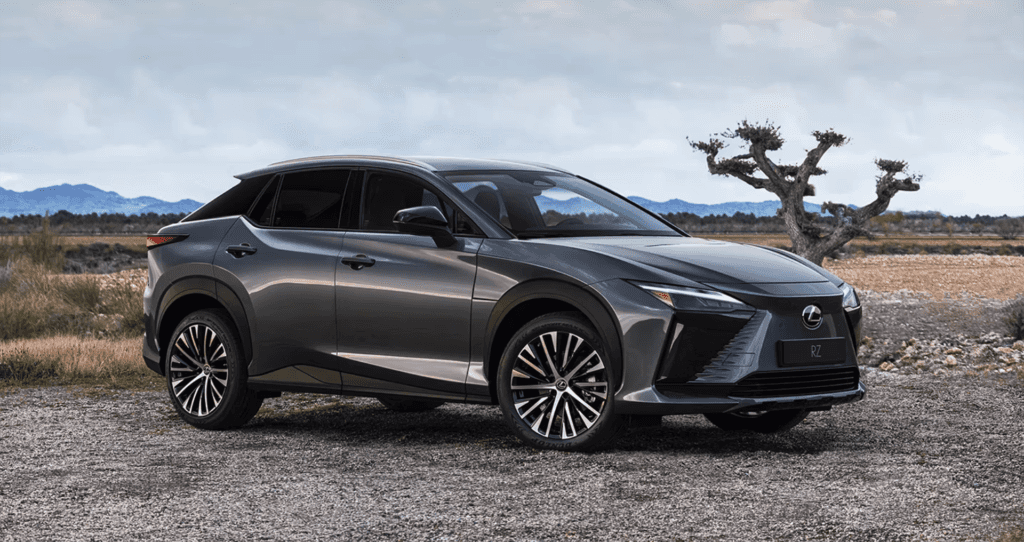 PERFORMANCE
The newly developed high-output electronic axle (eAxle) fully integrates the motor, transaxle, and inverter within a compact unit to benefit cruise range, spacious interior, and excellent design. The front eAxle is packaged with a short front/rear system layout, while the rear eAxle features a low-profile layout contributing to increased interior and cargo space. Standard across the entire RZ line, DIRECT4, the core technology of Lexus Electrified, is an all-wheel drive system that achieves quick and linear response according to driver input. The DIRECT4 drive force distribution control uses vehicle wheel speed, acceleration, and steering angle sensor information to control front-to-rear drive force ratio distribution between 100:0 and 0:100. This contributes to improved start-up acceleration, handling stability, and low power consumption.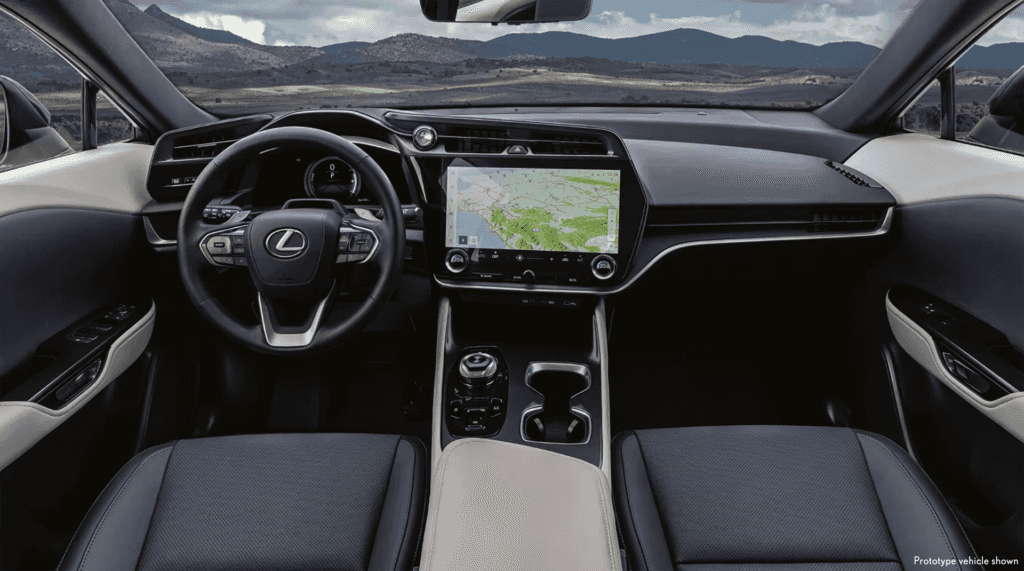 TECHNOLOGY
Under the Lexus Electrified vision, Lexus engineers pursue the creation of expressive in-cabin sounds that convey the exhilaration of driving. The RZ 450e establishes a dialogue between car and driver by matching sound frequencies to the vehicle's speed and sound levels during dynamic actions such as acceleration. The tone and acoustic transmission characteristics of the drivetrain's sounds were tuned to ensure its pleasantness. The highly intuitive Lexus Interface connects you like never before. Available with a Drive Connect trial or subscription, Intelligent Assistant* integration enables you to control most features with just your voice, and gets smarter over time. Cloud-based navigation offers more accurate directions and can provide real-time route information. While profiles allow different drivers to create personalized settings that can go from vehicle to vehicle.