RC F GT3 RECORDS TOP-10 RESULT IN SEASON-FINALE AT ROAD ATLANTA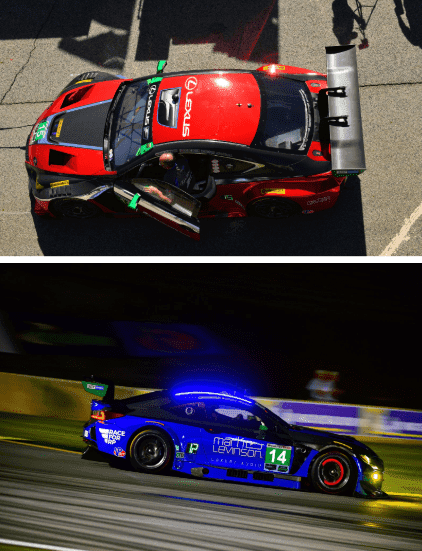 Lexus and 3GT Racing competed in the Motul Petit Le Mans at Road Atlanta on Saturday, October, 15th. The 10-hour endurance event closed out the 2018 IMSA WeatherTech SportsCar Championship 11-race season for the Lexus RC F GT3.
The No. 15 Lexus finished 10th in the GTD class with 3GT Racing drivers Jack Hawksworth, David Heinemeier Hansson and Sean Rayhall. Hawksworth qualified second for Saturday's race and the No. 15 led 23 laps around the 12 turn, 2.54-mile Georgia road course. The trio raced in the top-six for much of the race until an issue with the brakes in the closing hours resulted in a 10th-place finish.
The 3GT Racing No. 14 Lexus entry finished 11th in class after mechanical issues forced the RC F GT3 to the paddock midway through the event. Dominik Baumann, Kyle Marcelli and Philipp Frommenwiler took turns driving the No. 14 Lexus that was out front of the GTD field for two circuits in the race.
During the 2018 IMSA season, the pair of Lexus RC F GT3s collected two wins (Mid-Ohio and VIR), three podiums, four pole positions and ran six of the fastest laps in 11 GTD class events. Hawksworth led the GTD class with a series-best four pole awards.
Lexus ends its second season competing in IMSA's GTD class fifth in the manufacturer championship standings. When asked about Lexus Racing's second season, Lexus Motorsports Manager, Mark Egger noted how excited they all were about the team's 2018 season accomplishments. "[Our] first North American victory earlier this year, three podiums, two wins, four poles and six of the quickest GTD laps showcased the pace and performance of the RC F GT3." He went on to thank everyone on the 3GT Racing Team and TRD (Toyota Racing Development) as well as IMSA for a great season.
Lexus also showcased several of their newest production models at their station in Vendor Village. Last year's model of the #14 RC F GT3 made an appearance as well for fans to view inside and out.
The Lexus RC F GT3 returns to racing action on January 26 and 27 at the 2019 Rolex 24 at Daytona at Daytona International Speedway. We look forward to a strong 2019 season as development continues on the RC F GT3 race car!
To stay up-to-date on all of the Lexus Racing action follow @lexusracingusa on Facebook, Twitter and Instagram or visit www.lexus.com/motorsports.