How to Go Green Going Back to School
Approximately two million acres are developed into schools each year. These institutions consume more than 80 percent drinkable water, make up 40-50 percent of all materials and wood use, and create 35-40 percent of all municipal solid waste, according to the Green Schools Alliance. The buildings also generate more than 39 percent of total CO2 emissions, 46 percent of sulfur dioxide emissions, 19 percent of nitrogen oxide emissions, and 10 percent of fine particulates.
These numbers may seem insurmountable. You might be asking yourself, "How am I supposed to change those statistics?" Well, it only takes one person, and it starts with parents and students at home. Now that the school year has begun, here are some best practices to start it out in a green manner before you even walk through those schoolhouse doors.
"Upcycle" clothing
Something that has been going on for years has a trendy new name.
"Cue upcycling, a new, environmentally-conscious genre in fashion design that repurposes discarded garments and textile waste and reintroduces it back into the fashion market," explained Hannah Gould of Guardian Sustainable Business. Anyone at home can repurpose old clothes by adding baubles or decorations, and it encourages youngsters to get creative, as well.
Garage sales and thrift shops are also a good place to find recycled clothing, but if you or your child wrinkle your nose at those ideas, Plato's Closet and Filene's Basement are high-end retail options with the same ideas behind them. Another fun idea for recycling apparel is a clothing swap with your peers. It can be an enjoyable social event for students or for parents of younger children, and all of these options save time, money and resources.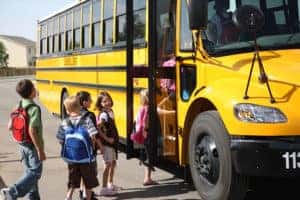 Use green transportation
Carpool, take the bus, ride a bike, or walk to school. Not only do these options save money from the cost of fuel, but they cut down on vehicle emissions. All of these options can provide fun social opportunities with peers, as well. If you must drive your own vehicle to the school, be sure to shut of the engine instead of idling at the pick-up and drop-off zones.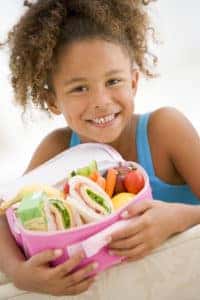 Avoid the brown-bag lunch
Buy a sturdy, long-lasting lunch box made of recycled materials and reuse that for as many years as possible. Use a thermos instead of disposable drink boxes or pouches, and drink from water fountains rather than buying and bringing bottles of water. As for what is inside the box, use Tupperware instead of plastic baggies to bring in as many leftover meals as possible. When leftovers are not available, organic foods are the safest for you and the environment, according to Charles Benbrook, Ph.D., chief scientist at The Organic Center.
"Organics eliminate synthetic pesticides and the damage they do to farmers, land, and drinking water," Benbrook explained.
Take a supply inventory
Reusing your lunch box is just a start. At the end of this school year, leading up to the next one, make a list of school supplies you already have at home, so as to avoid getting duplicates. This year's crayons will likely be just as useful next year. Notebooks that are half-used can become fully-used after a second year of utilizing them. Furthermore, if you do find you need any new supplies, shop for brands that use recycled materials in their manufacturing process, like Mead and Pilot. Also, any cardboard or canvas binders are biodegradable.
Recycle
It's that simple. It is the most obvious and the easiest way to be sustainable at home and school. Metals, paper and cardboard, glass, plastics, batteries and bulbs, and electronics are all recyclable materials. According to the Environmental Protection Agency, more than half of all recyclables collected in the United States, by weight, is paper, but there is no such thing as recycling too much. Urge the use of scrap paper at home and in the classroom, and do not discard the paper from old homework assignments — recycle them. 
Getting into the habit of conservation starts at home; it is easily transmitted into other parts of life, starting with school, extra-curricular activities, until it becomes second nature. By instilling values of green living early and often, it creates a brighter future for everyone and our environment.
This article is presented by Lexus of Northborough in Northborough, Massachusetts.