Car Care: Spring is Coming
The winter may not have bottomed out yet in terms of weather, but it's almost over. The end is in sight; in fact, you may already be spotting buds and hearing the first bird songs of the spring. That's right; even as the cold wind blows, it will officially be spring soon. Is your vehicle ready?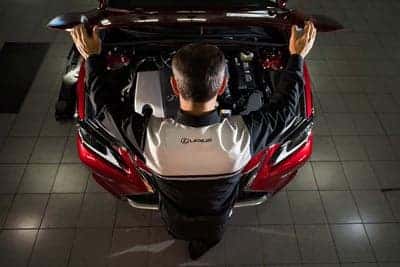 Modern vehicles are amazing machines. They'll plow through winter snow and slush and then dive headlong into summer heat, often without uttering so much as a whimper. This wide, trouble-free operating range is a wonderful benefit to the modern driver. It can have a hidden downside, however.
That downside is that drivers often forget to give their vehicle the attention it needs to keep serving faithfully. Using the change of seasons as an excuse to at least get a vehicle checkup is an easy way to remember. So, with spring coming soon, what should you do?
Make sure you're ready
Setting a convenient appointment now can help you plan. It's always busy in the service department. Securing a spot on the calendar can also help the parts department make sure they have what they need for your vehicle. For example, if you go through the winter on a set of winter tires, you'll want to get them swapped out for all-season ones before the temperatures really climb. Handling suffers, and you'll wear away thousands of miles of tire life by running winter tires in warmer weather. If you know you're coming in for a tire swap, you may already have a set of regular tires that will work, but what if you need to replace them? Knowing beforehand will help your dealer make sure they've got the right stuff on-hand for your appointment, so there's no scrambling. Don't want to wait at our Dealership while your vehicle is being serviced? No problem! We now offer Pick-up and Delivery options. Learn more here. 
Change your oil and filters
Changing the oil and filters along with the changing of the seasons is another smart practice. All winter, your vehicle has started faithfully, braved temperature extremes and maybe even idled for long periods of time to build up cabin heat. That's hard on the engine oil, which can only hold so much gunk. Getting that moisture and acid drained out of your engine replaced with fresh oil will set you up well for warmer weather. Don't forget to check your cabin filter and replace it if necessary.
Check your suspension
Because roads can be more treacherous in the winter, it's possible you could damage your car's suspension components. That pothole that made you clench your jaw and startled everyone into silence? It may have claimed a balljoint or suspension bushing. The only way to know for sure is to have your suspension inspected for any excessively worn or damaged components. Getting it checked and repaired now can save you from a potential disaster at the worst moment. A damaged balljoint can even cause a wheel to detach while you're driving – not a fun way to spend a springtime afternoon.
Don't forget the little things
How did your exhaust system fare? With all that road salt and additional idle time, did the muffler maintain its integrity, or is it time to replace it? Modern vehicles are well rust-proofed, but it's easy, and well worth it, to check for any potential issues while the vehicle is up on a lift. Other simple checks include making sure all the bulbs work and replacing the wiper blades, since they have had a workout keeping the windows clear during those winter storms.
Your vehicle has been a trusty source of safe transportation over the last few months. As the weather gets less ferocious, it's time to think about taking those steps that will keep your vehicle operating trouble-free into the springtime.
This article is presented by Lexus of Northborough in Northborough, Massachusetts.