5 HEALTHY TIME-SAVING BREAKFAST IDEAS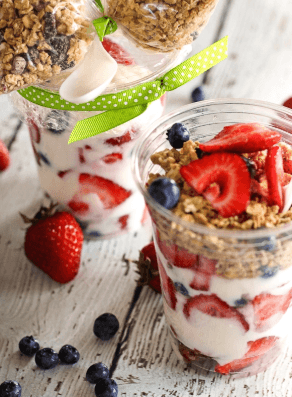 When was the last time you actually got to enjoy a hearty breakfast in the morning? Are you the type who's always running out of the house without having a chance to enjoy your morning meal? It's understandable – mornings can be hectic enough, but add in cooking a meal and your head probably spins.
However, as the old adage goes: Breakfast really is the most important meal of the day. So it's important to make the time for it. However, when researchers from the United States Department of Agriculture (USDA) surveyed Americans what they eat for breakfast, about 20 percent admitted to skipping the meal altogether.
Skimping on breakfast can make your head foggy all day and even make you crave sugary calories later on. But if you do make time for a healthy meal, you're doing your body and mind good.
"You will be more productive all day long if you just invest a few minutes in eating a healthy breakfast," says Joan Salge Blake, MS, RD, professor of health and rehabilitation sciences at Boston University.
But that doesn't mean slurping down a big bowl of sugary cereal or throwing a few microwavable sausages in the microwave. There are ways to save time in the morning while still getting to enjoy a delicious breakfast that's easy to make and good for you, too. Here are a few busy-morning favorites:
Overnight oatmeal – Think you don't have time to make a batch of oatmeal for breakfast? Think again. The night before you plan to eat this nutritious breakfast, mix together 2/3 cup almond milk (or regular milk), 1/2 cup rolled oats, 1/2 cup vanilla or plain Greek yogurt and a pinch of cinnamon. Refrigerate the mixture overnight and voila – it's ready to enjoy in the morning! The oats soak in a milk and yogurt mixture, which softens them to a creamy texture by the morning. It's an instant, cold oatmeal that tastes great and doesn't waste a moment of your morning.
Pull-together yogurt – Not a minute to spare before heading to work? At the start of each week, purchase five containers of plain Greek yogurt (a good source of protein and calcium). Then, scoop one serving of your favorite low-fat, high-fiber cereal or granola into five plastic snack bags. Take a yogurt and one of your cereal packs to work each morning and combine the two to enjoy them at your desk. Another tip: Store a bottle of Agave Nectar in your desk drawer to drizzle on when you're craving a sweeter breakfast.
Sweet smoothie – The ingredient combinations for breakfast smoothies are endless – and one of the tastiest, easiest ways to enjoy your breakfast. If you don't have time to blend the smoothie in the morning, cut up all your ingredients and place them in the blender the night before. Then put the blender in the refrigerator overnight. If the recipe calls for ice, you can add it in the next morning and then blend until smooth. If there's any left over, you can store it in an air-tight container.
An easy recipe to use: 1/2 cup of strawberries, 1/2 cup of banana slices, 6 ounces of skim milk, and 1 tablespoon of natural peanut butter. Combine the ingredients at night and then blend it in before you leave and you've got yourself an easy, delicious and healthy breakfast to keep you full all morning.
Breakfast pudding – Chia seed pudding, that is. This recipe couldn't be quicker or more nutritious. The night before, simply combine 1/4 cup chia seeds, 1 cup coconut milk and a 1/2 tablespoon honey in a small bowl, mason jar or other to-go container. In the morning, just take it out of the fridge and it's ready to eat. If you have time, you can top the pudding with fresh fruit and nuts. With just 206 calories, this delicious breakfast pudding is hard to beat.
Fast 'n easy eggs – No time to deal with cooking an egg on the stove? Beat two eggs in a microwave-safe container, and add a few of your favorite vegetables you prefer (tomatoes, spinach leaves, peppers, etc.), and if you'd like, sprinkle in a bit of cheese. Microwave the eggs for about 30 seconds, stir and then microwave for another 30 seconds. Then just place the lid on the container for a healthy to-go breakfast. You can also prep this the night before – just store the raw mixture in the refrigerator and simply heat it up in the morning.
Don't skip breakfast and if you follow a few of these ideas, you'll see that eating right in the morning is less complicated than you think.
This article is presented by Lexus of Northborough, in Northborough, Massachusetts.